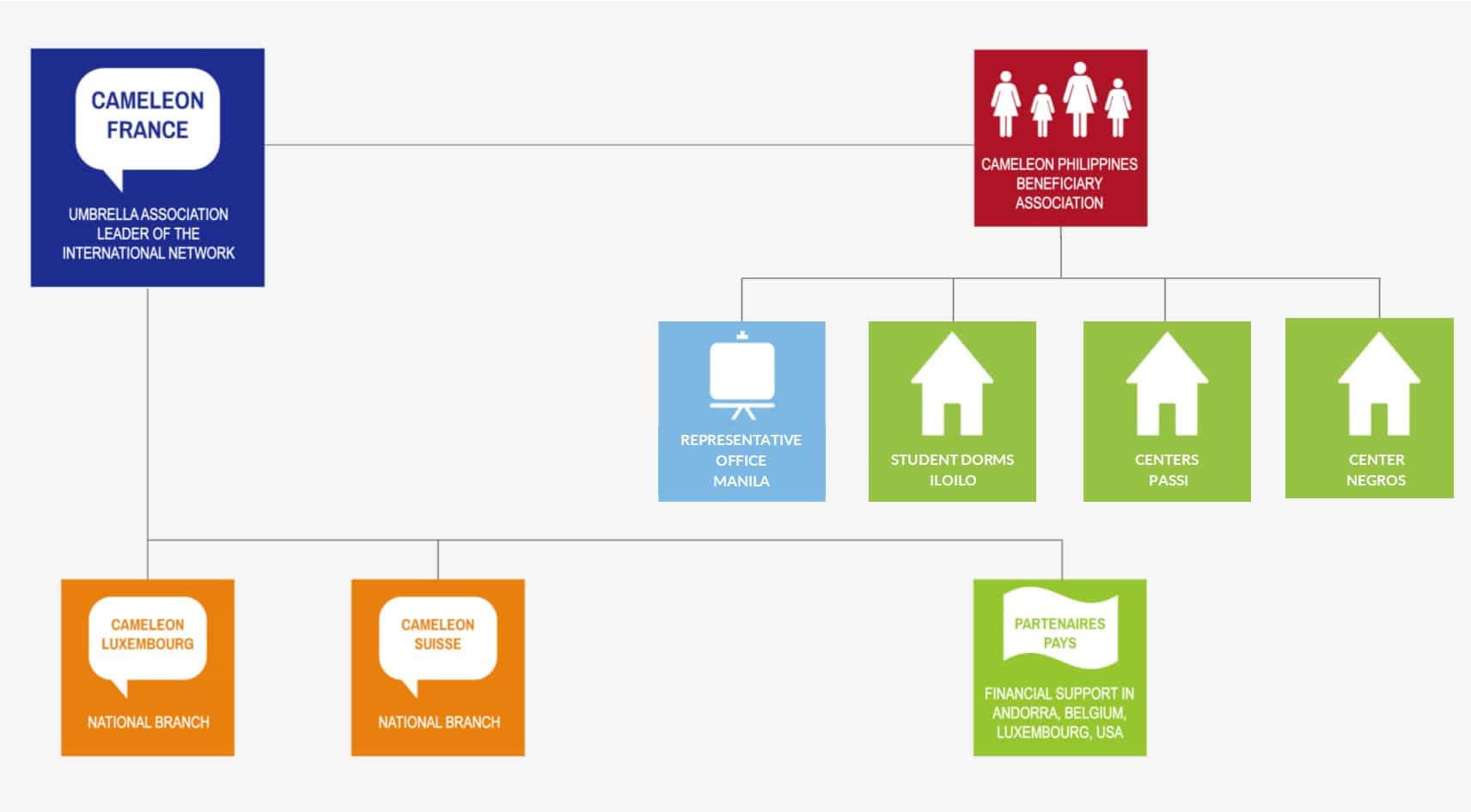 Our Statutes
CAMELEON is a charity under the law of 1901 recognised as a charitable organisation, entitled on this basis to receive donations. If you're submitted to personal income tax, you can deduct:
75% of your donation's amount up to 1 000€,
66% of your donation's amount beyond 1 000€, 
within the limits of 20% of your taxable income; the possible surplus carried forward to the next five years (Tax Code article 200; BOFiP-IR-RICI-250-12/09/2012)
A donation of 30€ will only cost you, in the end, 7,5€.
Our role and actions
CAMELEON France is in charge of:
Collecting funds
Looking for sponsors
Hiring and training volunteers (interns and unpaid helpers)
Planning events helping CAMELEON's visibility
Rallying pupils and students
The communication about the charity intended for external audiences
Steering other branches of the charity
Awareness-raising workshops in schools
A permanent team 
Founder and Director: Laurence Ligier
Director of Operations: Charlotte Pietri
Administrative and financial Manager: Charlotte Bayart
Task officer of Awareness and Advocacy: Socheata Sim
Task officer of Sponsorships and Fundraising: Adeline Sfiligoj
Task officer of Communication and Marketing: Clémence Didier

Civil Service Partnerships: Audrey Chazal, Gillian Gedeon and Léo Guary
Civil Service Associative life and Volunteering: Anne Vidal
Referent Burgundy Region – Vice-President CAMELEON France: Marguerite Chevat 
The executive board 
President : Jean-Pierre JOLIVOT
Vice-president : Florence PROVENDIER
Secretary : Violaine METMAN MONTMARCHE
Assistant secretary : Mathilde MAGNIEN
Treasurer : Noëlle COUGET
Active members : Marguerite CHEVAT, Marc EYER, Catherine RENARD
Volunteers
CAMELEON France relies furthermore on a team of about forty regular volunteers that support the development of our actions (community life, craft sell, local partnerships, interactions with schools, events, translation…). On top of that, about thirty occasional volunteers get organised during events planned by the charity.
OUR PARTNERS IN FRANCE
Companies / Foundations / Clubs
API & YOU

Apprentis d'Auteuil

Au bonheur du fouineur

Avenir Focus

AXA Assurance
(Agence Benoit Noël)

Brain and Software International – BSI

Brother

CDC Développement solidaire

CLARINS

Cocktail Scandinave

Couture4CAMELEON

Delta Trailers

DOME X'PATS

Eliza les ailes du voyage

Fondation 154

Fondation Air France

Fondation Amanjaya

Fondation ARTELIA

Fondation BNP Paribas

Fondation de France

Fondation du Grand Orient de France

Fondation Engagés Solidaires

Fondation ENGIE


Fondation Ombrie

Fondation Raja-Danièle Marcovici

Fonds l'Oréal pour les Femmes

Fonds Meyer Louis-Dreyfus

Hôtels Paris Rive Gauche

KIWANIS Lyon Confluence

L'Etal Savoyard

La Cabane

Les Boutiques du personnel de CLARINS

Librairie Red Wheelbarrow

Maison des Vins de Chalon sur Saône

Newwoc

Optique Caméléon

QDC Services SAS

Quebec Inc (La Cabane à Mario) au Quebec

SARL Jules Romain

Sgive

Social Brain

Talents et Partage

Upside Media

Vision Nomade

Wavestone

Zonta Club Paris Port Royal Concorde
Institutions
Agence Française de Développement (AFD)

Agence du Service Civique

Ambassade de France aux Philippines

Ambassade des Philippines en France

DGCS (Direction Générale de la
Cohésion Sociale) – Ministère des Solidarités et de la Santé

Le Grand Chalon

Marie de Chalon sur Saône

Ministère des affaires étrangères du Luxembourg

VOICE (Ministère des Affaires Etrangères des Pays Bas)
Schools / Associations
A Chacun Son Everest

Association Française des Fundraisers (AFF)

COFRADE

Collège Albert Vinçon
(Saint-Nazaire)


Collège Sainte Philomène (Couëron)

Coopération Humanitaire Luxembourgeois (CHL)

Coordination Sud

Ecole Louis Pasteur (Orgeval)

Ecole Nationale des Arts de
Rosny-sous-bois (ENACR)

Festival International du Film
pour les Droits de l'Homme (FIFDH)

France bénévolat

Groupe scolaire Le Caousou (Toulouse)

Hiligaynon Association

International Impact

Impact International

La Petite Manille

La Voix de l'Enfant

Paris je m'engage

Phare Ponleu Selpak (PPS)

Stop aux Violences Sexuelles

Welp
Make a donation to CAMELEON France
Online, for punctual or regular donation:
HelloAsso
By bank transfer:
RIB : 30004 01428 00010011617 09
IBAN : FR76 3000 4014 2800 0100 1161 709
BIC : BNPAFRPPCHL
By cheque:
Please make payable to « Association CAMELEON » and send to ASSOCIATION CAMELEON France
32 rue Robert Lindet – 75015 Paris, France.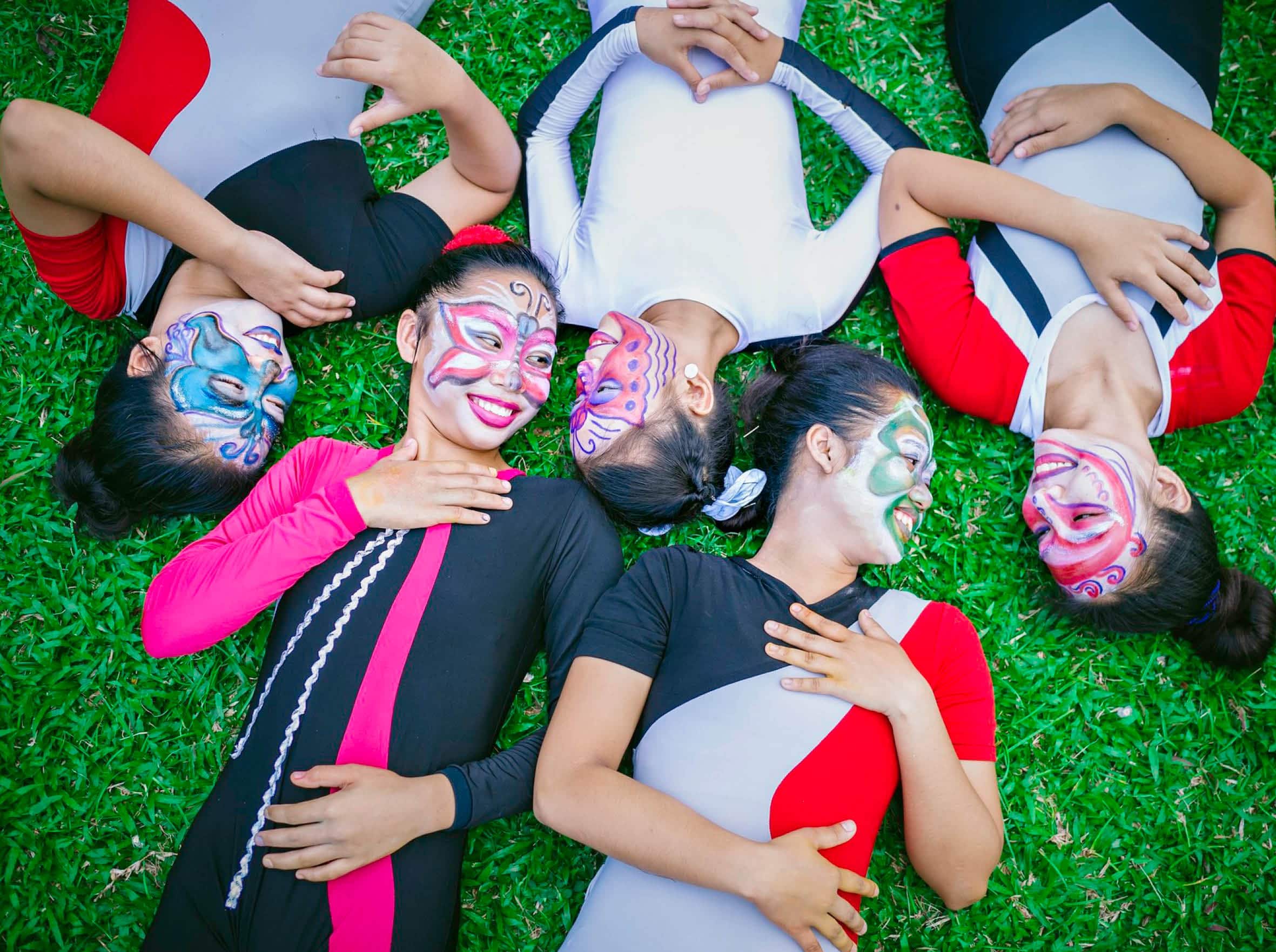 CAMELEON HEADQUARTERS
82, rue Philibert Guide
71100 Chalon sur Saône
Phone: 03 85 48 87 65