On November 8th, 2013, super-typhoon Yolanda hit the Philippines with unexpected winds of more than 350km/h. This storm caused severe damage throughout the country, and particularly on the island of Panay. Half of the 330 houses of CAMELEON beneficiaries were totally destroyed, and the other half suffered partial damages.
CAMELEON decided to launch a large scale reconstruction project: the Yolanda Project. Because the association does not specialize in construction work, 2 French engineering volunteers were recruited. They worked in close collaboration with local engineers, CAMELEON staff, and affected families. CAMELEON supplied materials for building and families provided the labor in return. Families were trained on how to rebuild stronger houses: with cement foundations, stronger wooden structure, wind bracings…Through the Yolanda Project, families, some of whom are coordinators of their Barangays, were able to learn new skills and accomplish more than they ever thought they could.
Ne Ann Palomillo, from Tubod in the Municipality of Bingawan, and Dennis Franklin Tan, from Pangi in the Municipality of Passi, have both been coordinators of their respective Barangays for 2 years. Today, they tell us about their experiences and what they have learned through this reconstruction project.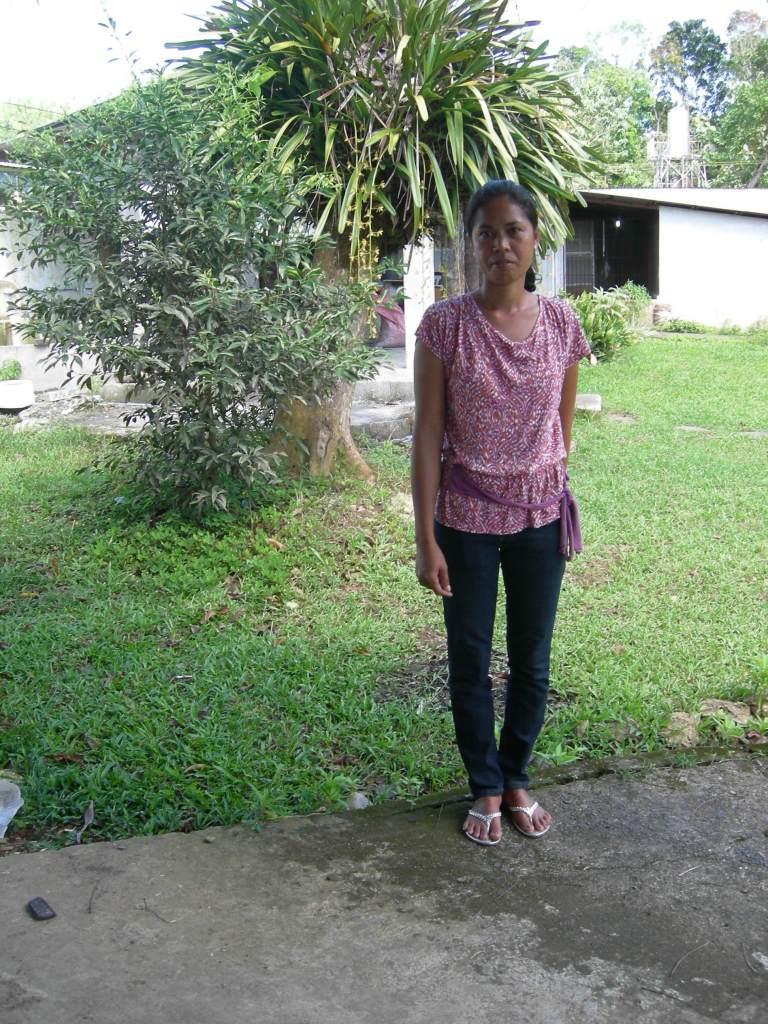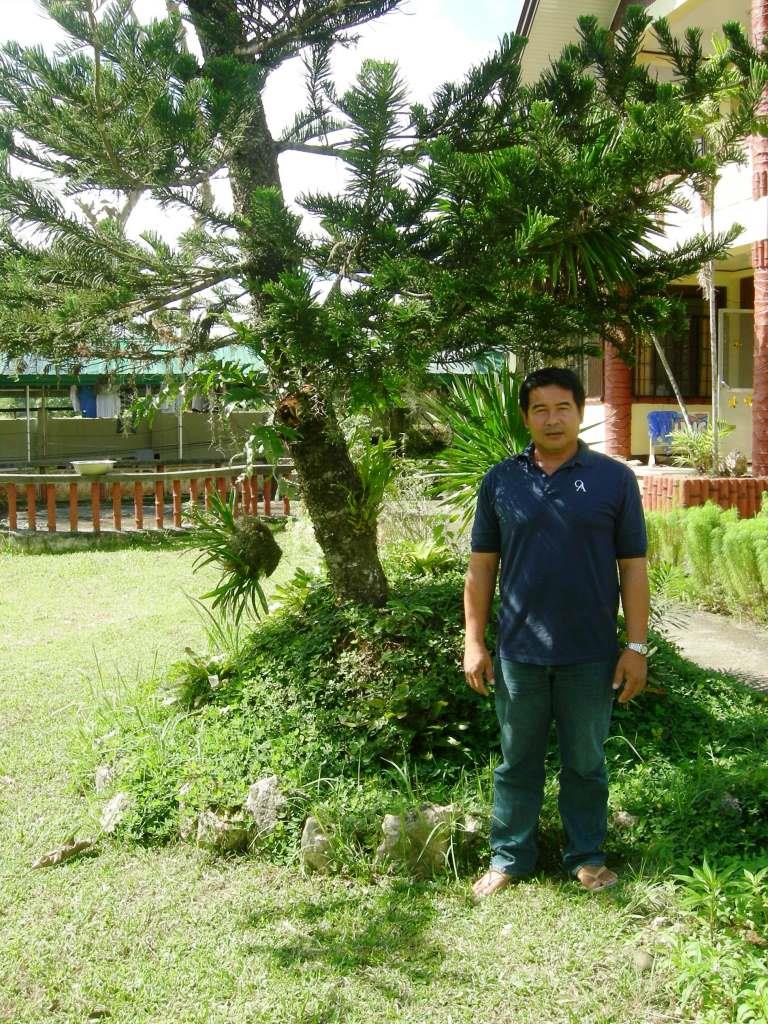 Ne Ann Palomillo, Barangay coordinator Denis Franklin Tan, Barangay coordinator of Pangi
of Tubod in Bingawan. Her child has studied in Passi. His child has studied trough the
trough the Sponsorship Program of CAMELEON Sponsorship Program of CAMELEON for 4 years.
for 5 years.
THEIR MISSION
To implement the reconstruction of the beneficiaries' houses, Palomillo and Tan were tasked by the CAMELEON staff with coordinating multiple levels of the project in their Municipalities.
First of all, they dealt with team management. They guided CAMELEON staff to each beneficiary's house and monitored the work of the families and workers (foreman and carpenters) in the field. They relayed instructions from the engineer to the workers. They also managed the concerns of families and workers and constantly reminded the beneficiary families of their tasks, such as digging holes for septic tanks or getting materials from the delivery area. In addition, they prepared the monitoring sheet for the payroll and gave salaries from the CAMELEON staff to the workers.
Both coordinators had to manage construction techniques to ensure workers followed instructions. They checked the progress of the reconstruction of the houses by communicating with the workers and visiting them three times a week. They also had to check the given layout of the house and the plan and the designs for the flooring, walls, bridging, ceiling, roofing and braces.
In addition to this technical aspect, they also dealt with the delivery of materials and reported a lack of materials to the CAMELEON staff. They coordinated the entire delivery process by requesting delivery trucks, informing the inhabitants of houses, securing the delivery areas, helping to divide and distribute materials, and requesting material exchanges from the supplier in quality control situations. Finally, they ensured that all materials were being used properly and in the correct areas.
AN UNFORGETTABLE EXPERIENCE
These two coordinators agreed that their mission was difficult to implement at times. They had to manage negative feedback and some un-cooperative behavior. Some material deliveries were delayed and arrived in July, a month meant for farming due to rainy conditions. The weather also played a part in making the reconstruction difficult. In the farthest Barangays, it would rain forcefully with hot temperatures, but the coordinators continued their work despite the obstacles. Tan said, "even if we experienced difficulties while implementing the project, we are still thankful to CAMELEON for giving us this opportunity."
And indeed, these coordinators worked their hardest and this project was a real opportunity for them to develop new skills. They gained knowledge on how to build stronger houses (carpentry, bracings, wall, and house plan) and how to manage technical difficulties (transfer materials from one house to another to maximize the time). They went to places that they had never been before, particularly when visiting far Barangays. They also learned adaptation and communication skills. For example, it was the first time that Palomillo had met influential people or dealt with people from the professional world (engineers, architects, mayors, Barangay captains, and other government officials). They learned to comprehend people with different attitudes and beliefs in order to facilitate understanding between workers. Thanks to this experience, Palomillo and Tan became more understanding and patient with other people, and gained confidence. According to Tan, "we were able to better learn how to become responsible on our own in order to help our community when in need. I hope that the leadership skills we developed from working with CAMELEON will be continue to grow so that we can continue what we started."
A SUCCESSFUL PROJECT
By the end of November 2014, the reconstruction project had been successfully completed! All 330 homes have been rebuilt and Palomillo is happy to be able to say that "the project was a big help not only to me, but to all the beneficiaries too. Without it, they couldn't have repaired or rebuilt their homes." And CAMELEON is also thankful to the coordinators. Without their commitment, the project would not have been a success!
To conclude, Dennis Franklin Tan said "Thank you to CAMELEON, thank you for the program, for the idea, and for all the emotional, physical, psychological, and mental support you provided. Thank you very much."