Willing to become godmother or godfather?
According to your budget and to the needs of each child, you bear a part of the school fees and the extracurricular costs of your godchild within the CAMELEON programs : 
28€ = school fees, school supplies, uniforms
44€ = school fees, school supplies, uniforms, transports, school trips
56€ = school fees, school supplies, uniforms, transports, school trips, exams fees, internships and professional training, personalized academic support
Do you think that every child has the right to a future ?
Do you want to change the life of a child born in a country where 47.5% of the population lives on less than 1.52 €/day while forging lasting bond with him ?
Become a sponsor!
Sponsoring with CAMELEON, it's offering a unique chance to cope for child victims of sexual violence or extreme poverty in the Philippines, by giving them the means to build a future.
The individual sponsorship is one of main field of our association.
What do you receive? Considerable joy and emotion. 
« Sponsor like us, you will receive a lot more than you will ever give ! »
Philippe & Muriel, sponsors for 6 years
An authentic and personal bond arise sparsely between you and your godchild, through exchange of mails and photos and a visit on spot if you consider it ! You are changing a child's life, and this way changing the world's perspectives.
Plus your contributions are financially deductible up to 75% !
What can you bring him? A future and a morale support.
Your godchild receives, through individual sponsorship that bear the costs for school and extracurricular, an irreplaceable lack of confidence and of attention up to his complete autonomy. He or she can go to school, and graduate from college will allow him to access a qualified well rewarded job and to provide for his family, thus radiating on all civil society.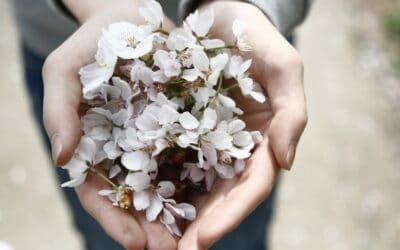 They have been supporting the association for many years. They are a volunteer but also a sponsor and part of the CAMELEON family. Discover Céline Gazel's commitment! Introduce yourself and tell us how you knew CAMELEON? My name is Céline. I grew up in Haute-Savoie...
Sponsored child
Sponsoring a child or a teen from the Personal reconstruction / Reintegration and Autonomy programs
Little girls and young women are between 5 and 24 years old. They are supported by one or two sponsors until the end of their studies. The sponsorship contributes to the reconstruction process because the young girl finds, alongside his sponsor, a caring person that motivates her to follow through her studies and helps her to regain confidence in her abilities.
Sponsoring a teenager of the Education and Development program
Children, boys or girls, are between 10 and 24 years old. They come from underprivileged families hailing from villages close to our foster houses. They have excellent educational outcomes and goes to the same schools as the teenagers from the Personal reconstruction/Reintegration program. They are supported by one sponsor until the end of their studies and benefits, as well as their families, from medical and social care from CAMELEON. The parents of the beneficiaries of this program contributes to some of the costs.