Feedback on the vernissage !
On the Monday, November 25, 2016 took place at the Center Anim 'des Halles le Marais, the opening of the photo exhibition FRONTIÈRES by Pedro Lombardi and CAMELEON. From 18h30 to 21h, to the rhythm of DJ Caspe's music, many of you have come to discover the story of young girls accompanied by CAMELEON in the Philippines through the exhibition. Around a drink, the people present were able to discuss with CAMELEON employees, supporters, and volunteers as well as with photographer Pedro Lombardi.
A huge thank you…
Thank you to all the people that were there !
The team of the association wishes especially to thank Clara, Alexandre, Agathe and Gaspard who mobilized themselves in the installation of the exhibition and the preparation of the opening.Thanks you to Manon who cooked us delicious nibbles and to Caspe for brightening this friendly and committed moment.
And finally thanks to the Centre d'Animation les Halles for welcoming us !
They talk about us :
CAMELEON and the exhibition FRONTIÈRES have appeared in Le Parisien !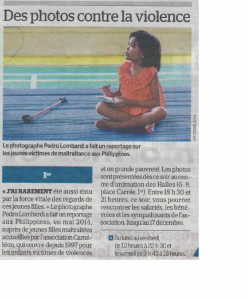 Find the exhibition and the vernissage in image :