Children have access to screens at an increasingly early age. While the marketing of certain brands for young people extols the educational virtues of specialized channels or connected toys, what are the opinions of scientists and childcare professionals on this matter? As parents, how to accompany the first steps of the youngest in the digital world?
Exposure to screens: the 3-6-9-12 progression
Serge Tisseron, psychiatrist and doctor in psychology, gives several benchmarks in his program of awareness to screens. He encourages a progressive and reasoned introduction at different ages, according to the stages of development of the child.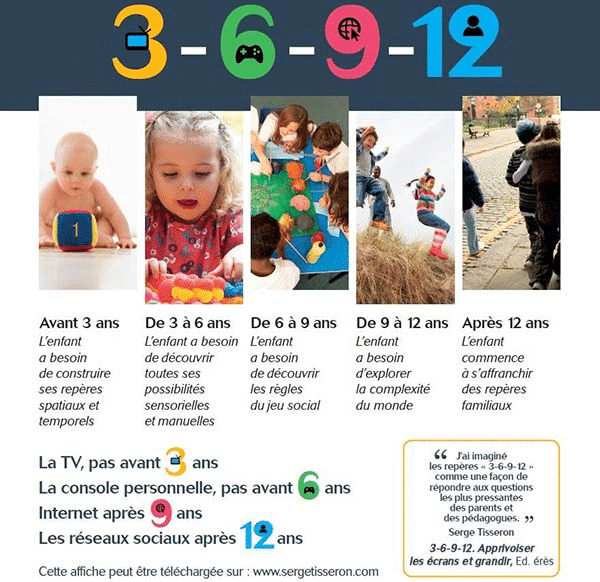 This poster can be downloaded on : www.sergetisseron.com
It is strongly recommended to limit or even avoid screens before 3 years-old. If your child is watching nursery rhymes or cartoons, privilege television than a smartphone, especially due to the precautionary principle regarding exposure to electromagnetic waves (which involve health risks). At this age, "the child builds himself through different acts: the TV risks to lock him in a passive status of spectator", reminds the Higher Audiovisual Council (CSA). The most interesting show at this age remains the interactions with his family environment, the discovery of his abilities and the exploration of his surroundings.
From ages 3 to 12, let's enjoy shared screen time as family entertainment, in addition to individual screen time. If possible, follow the "4 STEPS" recommended by paediatricians:
no or few screens in the morning. Attention is essential for school learning. The ultra-fast visual and sound stimuli from screens can tire the child's attentional system before arriving at school and diminish his concentration in class. More and more teachers bring to our attention this conclusion with children that demonstrate less reception to learning.
no screens during meals to preserve family interaction. These are beneficial for social, emotional and language development of children.
no screens before going to sleep because animated images are not a calming activity but rather exciting for the child's brain. In addition, the blue light emitted by smartphones (for example) tends to deregulate the internal biological clock and the production of hormones favourable to sleep.
no screens in the child's room because it is more difficult to control their use. If you ask your child to respect time limits and avoid violent content (especially for video games or watching Youtube channels), this gives him too much responsibility for his age. Children often have difficulty evaluating the value and impact of the audio-visual content they watch, as well as the actual duration of their screen consumption. Verbal rules must therefore be accompanied by actions (installation of software / parental filters, restriction of access to screens…).
Preserving this screen-free time allows your child to develop other recreational and social activities that enrich language, thinking and imagination, as well as the ability to be alone and gain in autonomy.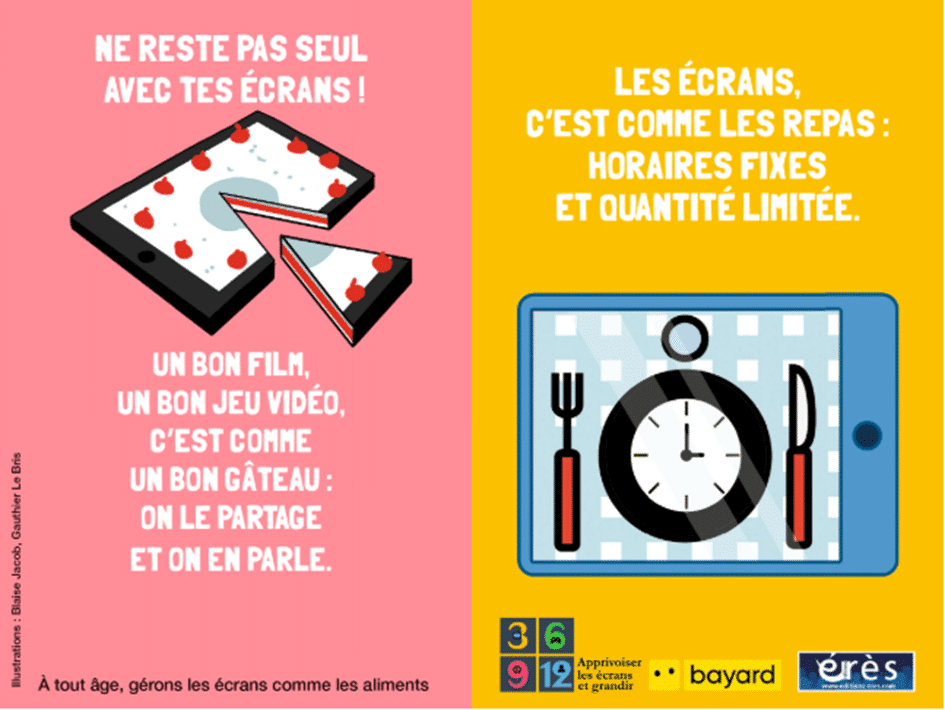 Download a summary poster of these benchmarks here.
The discovery of the Internet is recommended rather after 9 years-. Finally, access to minors under 13 years-old is prohibited on social networks (Tik Tok, Facebook, Instagram, Snapchat …) but the law is little enforced in practice because many pre-teens create accounts bypassing this age restriction.
Dialogue and awareness of risks to navigate safely
During a period of confinement, the limitation of movement and the absence of contact with school and friends can be difficult for children. Fortunately, there are many means of communication that allow them to maintain a link and an opening to the outside world. With applications such as Skype, WhatsApp, Jitsi, they can exchange with their friends or family members that they can no longer see temporarily. This can provide an opportunity to share a virtual "snack" or do other activities together but at a distance. Teens enjoy playing online games or chatting with others and exchanging links and videos.
With younger children, try to be present from time to time with your child when he or she is watching screens. You can discuss the images and stories to help them understand and express their emotions, but also develop their critical thinking skills and their representations of the world.
It's not possible or desirable to monitor everything your child watches, especially as they grow up and seek more privacy. But it's important to remind them that you're there for them in a non-judgmental way, and that they can count on you if they have any problem. You can share their practices online to give them the opportunity to talk about what they saw, how they felt and what they thought. Without using an alarming speech, make them aware of certain risks (exposure to shocking content, contact with strangers, harassment, attempts to intrude on private discussions, etc.).
As early as third grade, you can introduce the topic of bad online dating because sometimes kids who are feeling a little lonely may look for new friends online, without their parents knowing. Inform them about adults posing as children. One way that child criminals identify children is through online gaming applications where there is the possibility of public chats or interactions between players. After long periods of trust-building dialogue, their goal may be to obtain sexual images of the child or even to arrange a physical meeting.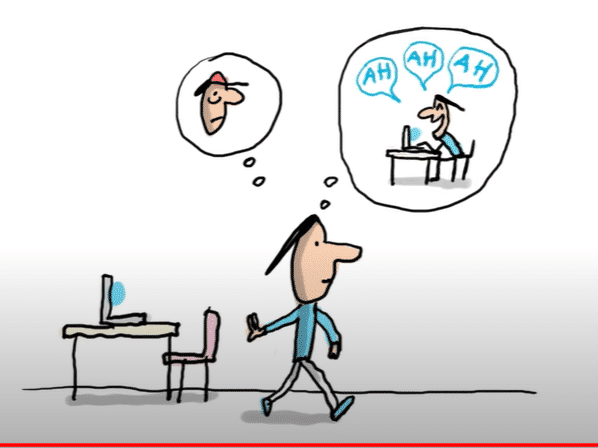 In addition, the risk of bullying between students increases at the end of elementary school and at the beginning of middle school. If this happens to your child, you can insist on the fact that it's not his/her fault and that there's nothing to be ashamed or afraid of, that you're there to help and protect. Here's a short video on cyberbullying from the series "1 Day – 1 Info":