What is this Safer Internet Day?
Safer Internet Day is an international awareness day dedicated to a safer internet environment, especially for children. This year it took place February 9, 2021 in 150 countries – the main topic was « Impact of Covid-19 on digital use by young people »
Since the beginning of the health crisis children and teenagers spend more time in front of their screen – cyberviolence seems to have increased by 57% over one year (Source/ Net Ecoute, February 2021)
18- to 17-year-old teenagers are particularly exposed, notably to insults, porn revenge or cyberharassment. Internet is a fantastic tool that can unfortunately equally be exposed to moral abuse and drifts. Behind computer screens, many daily devious behaviors prey on victims of all ages.
Moreover, and even more scary, an exploding children online abuse activity was observed by Interpol and Europol. It should raise attention, since France is the third country worldwide hosting online child abuse contents even though only 34% of the gamers declare that they play online with people they don't always know; 60% are between 10 and 17 years old
(Source: Etude SELL, 2020).
Attacks increase on these cooperative games 2.0 cyberspaces, especially through grooming techniques used by sexual predators to build confidence and trap children and teenagers.
Respect Zone and CAMELEON jointly address cyberviolence with gamers
To fight cyberviolence and cyberchild abuse, CAMELEON and Respect Zone developed an innovative partnership taking positive preventive Child protective actions.
Taking the opportunity of the Safer Internet Day, CAMELEON and Respect Zone organized a « gaming » event. Using the Fortnite game space – live broadcasted on Twitch platform, both associations carried out a prevention action together with Purpledjo, Isufraz and Rush Down gamers/streamers. Broadcasting messages against cyberviolence, the danger of online games and good practice to be adopted for safe online playing, we have risen awareness of some 2,000 people.
We especially stressed on the flaming and sexting notions as well as probable ensuingrisks, when sharing personal information or through virtual relationships started while online video game playing.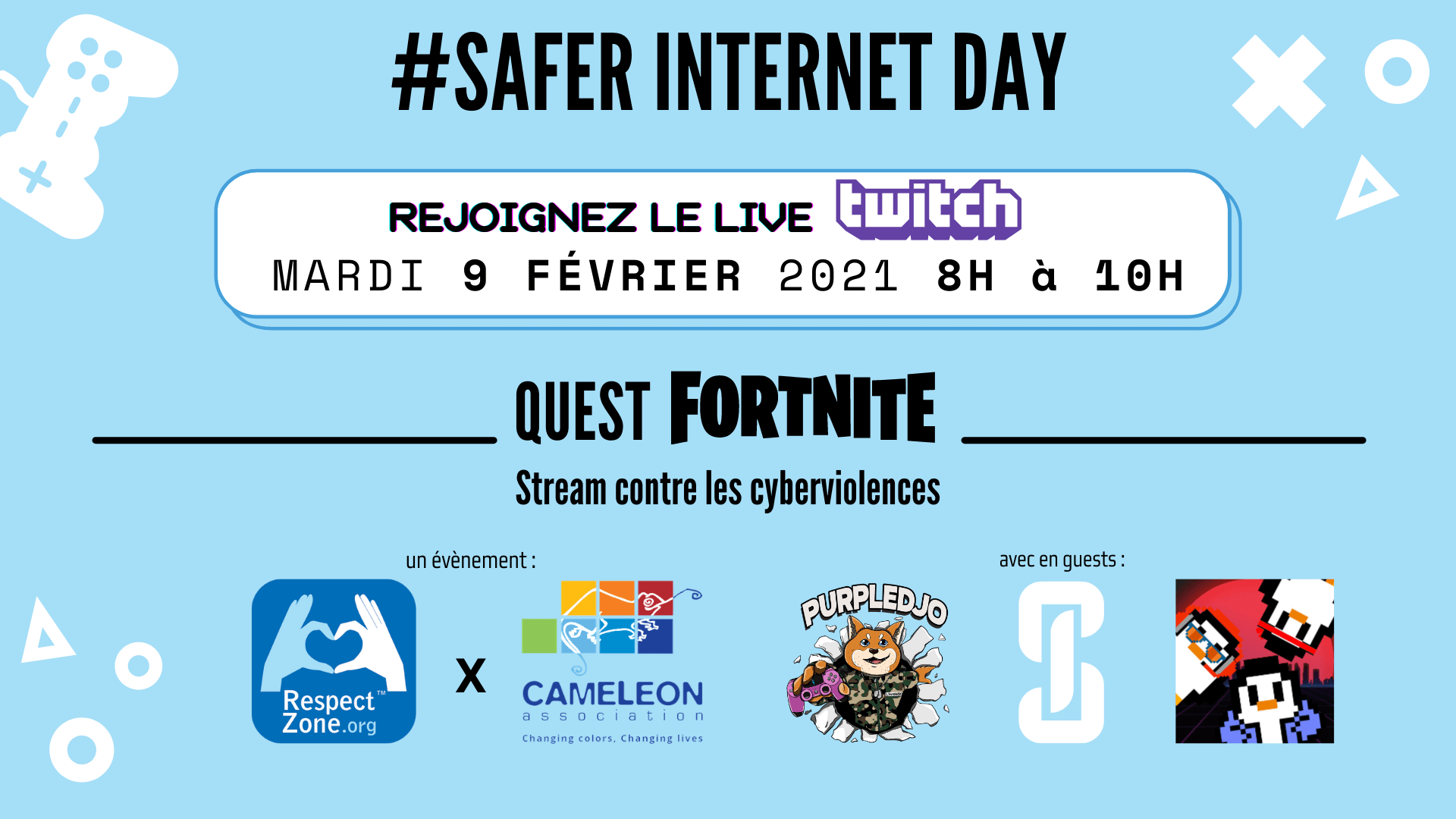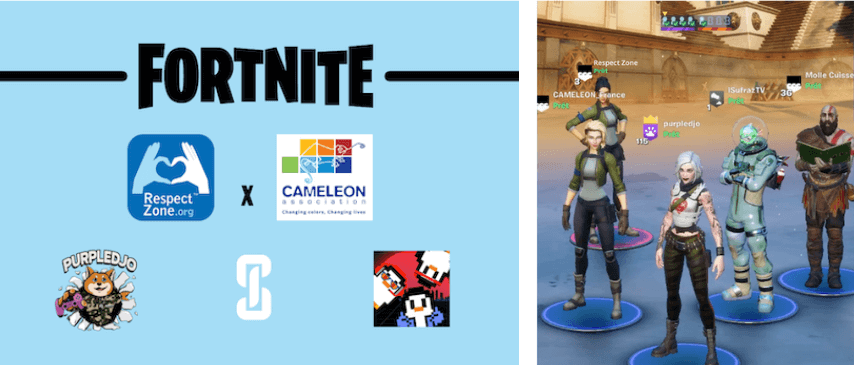 This awareness raising action is the first step to reach CAMELEON and Respect Zone's shared goal: eradicate all kinds of violence against children on Internet and social networks/media.
"A day like « Safer Internet Day » is the ideal opportunity to promote the tools conceived by Respect Zone, our NGO for young internet surfers. We therefore chose an environment that is home to them: videogame. We have addressed concrete issues thanks to the committed and involved gamers' help and complicity. It is urgent to lead a national huge awareness campaign for this particularly vulnerable public. We wish to challenge this utmost address together with CAMELEON, especially concerning online child abuse acts » says Philippe Coen, Vice-President and Founder of Respect Zone.
« Together with Respect Zonewe are sending a strong true sign to young people, their parents, their teachers and their educators: the first step to fight online child abuse is a better understanding of « online » risks and jeopardy. Fighting these drifts, especially in live streaming, is also a starting point toward fight against disparity and North/South violence, frequently enhanced by websites » reacted Laurence Ligier, Head and Founder of CAMELEON
For more information on « Safer Internet Day, click on the link: https://www.saferinternet.fr/safer-internet-day/
 Find out useful resources for children's awareness: https://www.internetsanscrainte.fr/