About Make.org consultation
Make.org is a citizen platform whose mission is to engage citizens in the positive transformation of society. To do so, Make.org has developed a digital consultation solution, able of massively involving citizens around a simple question of general interest and extracting popular consensus.
As part of the Great Cause for Childhood Protection, Make.org has launched a national citizen consultation with the support of the Secretary of State for Children and Families, Adrien Taquet, and the actress and film director Andréa Bescond, sponsor of the Great Cause.
The consultation took place from September 23rdto November 22nd, 2020, with the theme "How to protect children from all forms of violence?" Citizens, companies, and voluntary organisations were able to present their various concrete proposals to answer this question.
The results (source: press release and report of the consultation)
More than 70,000 participants, 4,300 proposals and 500,000 votes. The result is 11 priority ideas classified according to 4 main areas: legal procedures evolution, detection and reporting processes, awareness and prevention, and victim care.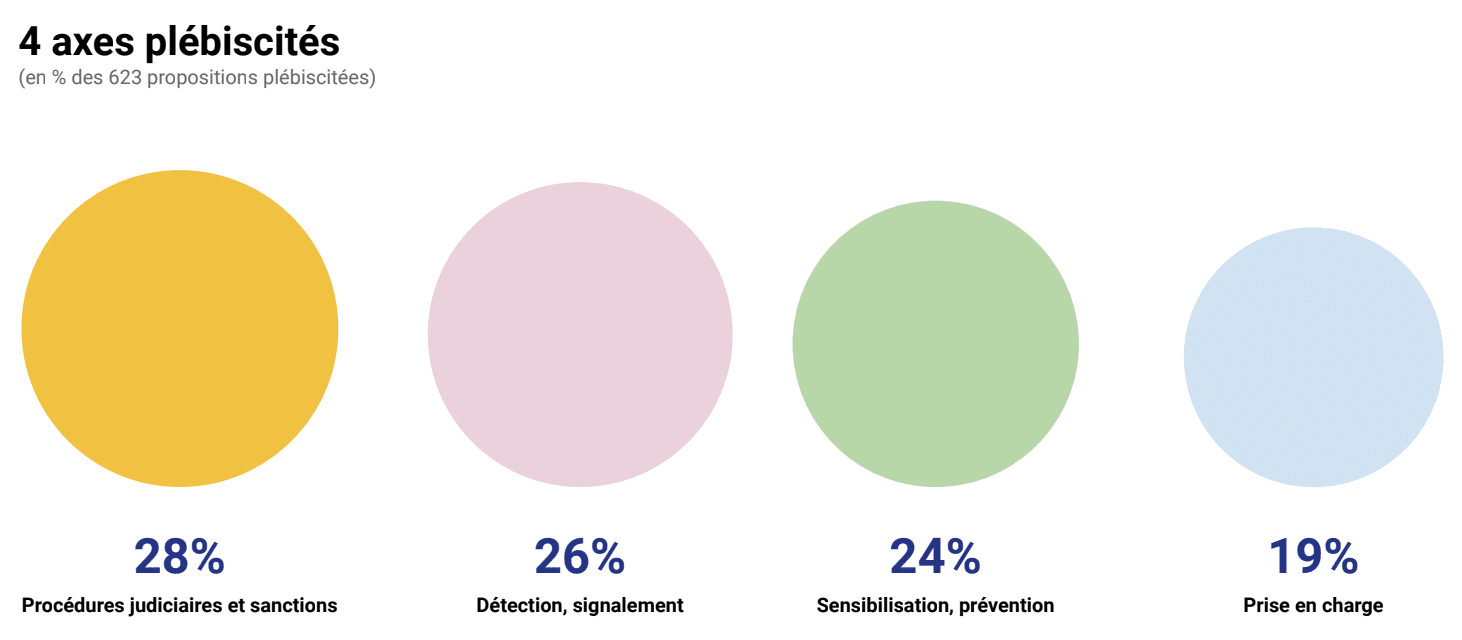 Proposals supported by CAMELEON
Within the framework of this consultation, CAMELEON intervened as an expert and noted that the proposals supported for many years by our advocacy, as well as our actions in the field, respond to the ideas and consensus of civil society.
Thus, "according to the participants in the consultation, the entire French population must be made aware, through major prevention campaigns, in the combat against violence against children, which must be made a national cause. Children must also be made aware from an early age, mainly at school, of the notions of relationship to the body and intimacy and learn to identify abnormal adult behavior. About intra-family sexual violence, which runs through the whole consultation, citizens consider it a priority to break the taboo on incest: to name this silent yet widespread violence to better fight it. Finally, particular attention is paid to the fight against cyber-violence: participants called for parents and teachers to be made aware of the dangers of the Internet and social networks, and for sanctions to be strengthened against the perpetrators of this type of aggression." 
What are the next steps?
CAMELEON is invited by Make.org, along with other partners (associations, companies, institutions, experts, media…), to participate in three days of reflection and co-construction to transform the priority ideas from the consultation into concrete actions. These consultation workshops will take place on March 2nd,3rdand 4th2021.
To see the results: https://about.make.org/enfance
© Photos et visuels : Make.org