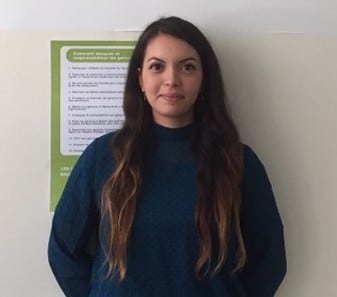 Hello Patricia and welcome to the team! Can you tell us about your background?
I am Venezuelan, in France since 2014. I studied Political Science in Venezuela with additional training in Human Resources Management and Corporate Social Responsibility and, subsequently, a Master in Social Development at the Institut d'Etudes du Développement Économique et Social at Sorbonne.
Since my studies, I have been very committed to human rights, sustainable development and the rights of the child. I had the opportunity to have several experiences on projects with very diverse organizations, in France and abroad. The most recent has been the social support of unaccompanied minors in exile with Médecins sans Frontières; the coordination of a project on trafficking for the purpose of sexual exploitation of migrants in Colombia for the NGO Moving Voices International; and the production of a documentary on the crisis in Venezuela.
What made you want to join CAMELEON?
For several years I have been aware of children's rights and sexual violence, but my last two experiences in the field made me want to get even more involved in this cause because unfortunately I have met children and young victims of this violence. I also met young people who would give it all to uphold their fundamental rights. When I discovered the CAMELEON Association and the proposed mission, I thought the position was a perfect match for my commitment.
What is your role at CAMELEON?
I joined CAMELEON's French Social Mission as Youth Programs Officer. I will co-pilot and implement the "young ambassadors for the rights of the child" program that CAMELEON has been running in the Philippines for several years and that we are launching this year in France. With Socheata Sim, in charge of Advocacy actions in France, I am also involved in the implementation of awareness-raising actions in schools and after-school. We run workshops so that children know their rights and are better protected against violence.
Tell us more about your engagement against sexual violence.
I have worked with children and young people, some of whom have been victims of sexual violence, and have witnessed the impact of this violence on their lives. Many people think that these are the problems of the countries of the South and are surprised when we inform them about the figures of the European countries. Sexual violence is everywhere and I share CAMELEON's vision 100% because it is urgent to act in a world where it is trivialized, taboo and rarely punished. I also aspire to a world free from sexual violence.