CAMELEON wishes to get recognition for its governance quality, financial management and the follow-up of the efficiency of its actions. This is why CAMELEON has started the process to obtain the IDEAS label.
WHAT "IDEAS" STANDS FOR: Institute for the Development of Ethics and Action for Solidarity
The IDEAS Institute supports charities and foundations to strengthen their capacity for action in the public interest. This process leads to the IDEAS label, which certifies the quality of governance, financial management and the follow-up of the efficiency of its actions. This label, attributed for 3 years, is a vector of trust for philanthropists, sponsors and investors. More than 70 organizations and foundations have been or are currently being supported.
The advantages of the IDEAS Label:
Overall analysis of the organization
The IDEAS Guide to Good Practices covers 12 objectives, declined through 60 action variables and 120 indicators.
The IDEAS Label has been set-up in 2010. It is well-known for its quality and reliability. The founders of IDEAS are: la Compagnie Nationale des Commissaires aux Comptes (French auditors), le Conseil Supérieur de l'Ordre des Experts Comptables (French National Association of Chartered Accountants) and la Caisse des Dépôts (French Bank).
Independent external audits
External audits carried out by professional experts. The choice of external auditors belongs to the organization which bears the cost.
Label Committee Expertise
The Label is attributed by the Label Committee whose members act independently. They are 15, chosen for their skills and with high experience in the field of organizations, foundations, social and solidarity economy.
The labelled organisations are not members of the IDEAS Institute. Based on the "IDEAS Guide to Good Practices", the organisation offers long-term support. The goal is to optimize the running of the association in order to be a candidate for the IDEAS Label.
4 steps are required: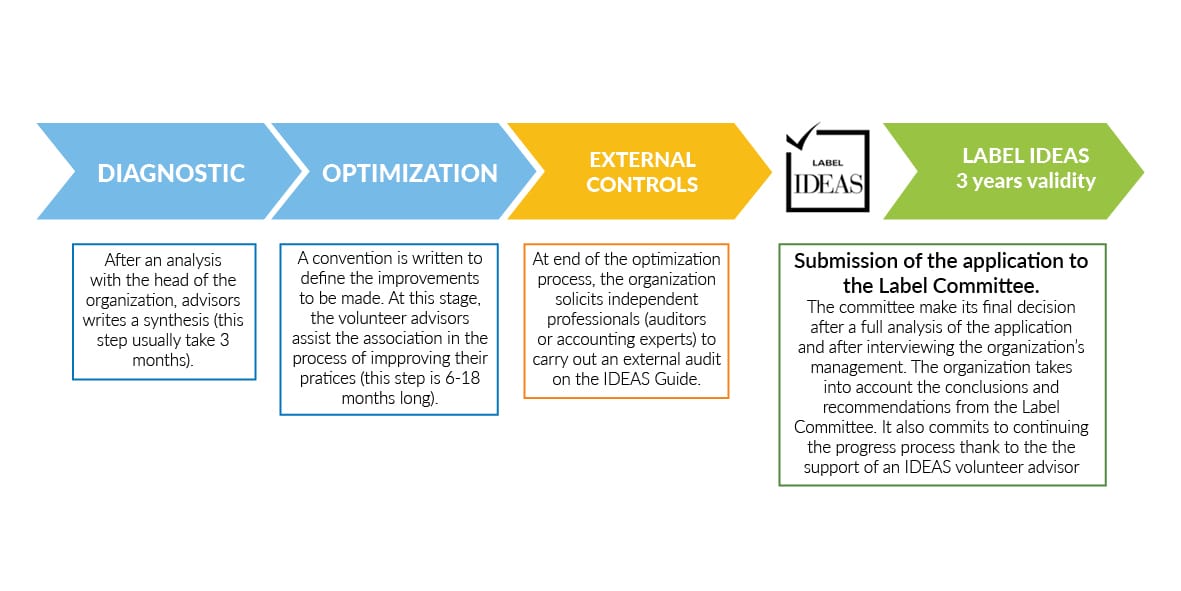 The IDEAS Label is intended to be used to encourage the search for funding. It will appear on all communication and collection supports relative to the organization, to convince and retain partners and funders.